Notable Occupants of the Grand Houses of Abbots Langley.
web site researched and maintained by Lesley and Tim Brooks, Abbots Langley.

The Solly Dynasty at Serge Hill.
In researching the occupants of Serge Hill, we had difficulty pinpointing exactly when the Solly family purchased the estate, and which Solly this was.
This was made more tricky by some sloppy work by others who had previously researched the Solly family tree, and had made incorrect assumptions about the relationships between the various family members - not very surprising when you discover that the Sollys had some very large families down the generations, and the same first names were repeatedly used.
Key is that the first-born was named Isaac through at least three generations of one branch of the family, and that Samuel was another commonly ocurring name.
So we carefully constructed a family tree, a small part of which is shown below. For convenience we have numbered the Isaacs in sequence, though this convention was not used in any of the records that we consulted.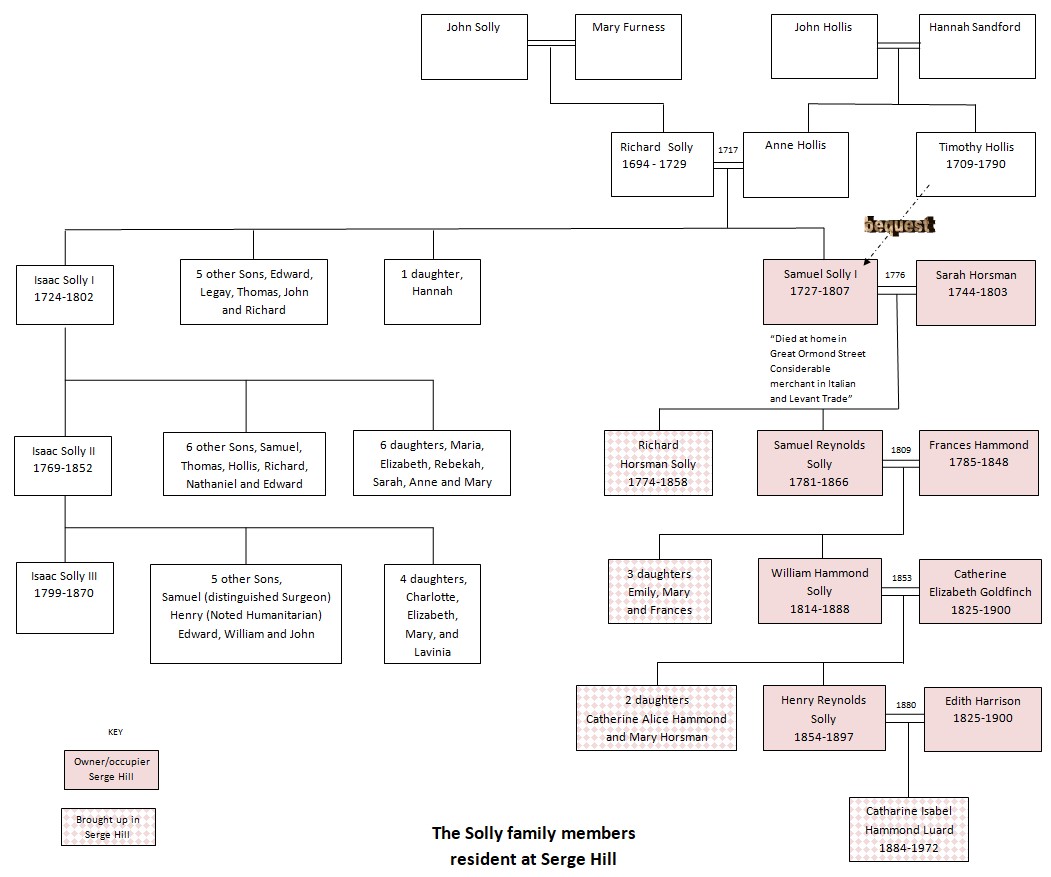 The generations we mapped started with Richard Solly and Anne Hollis, who had eight children, amongst whom we are particularly interested in their eldest, Isaac(I) Solly (1724-1802) and his younger brother Samuel (I) Solly (1727-1807).
Incidentally, Anne Hollis came from a large family, and it seems that this propensity had been passed down from her!
It was Anne's brother Timothy Hollis, who amongst his generous bequests, left his property in St Mary's Axe to his nephew Isaac Solly, and that in Great Ormond Street to Samuel Solly.
It was Isaac (I) Solly who built up the Baltic timber trade on which his family's wealth was first based. Isaac lived in a large house in St Mary's Axe in London, close to/coincident with the site of the Baltic Exchange.
Isaac (I), married to Elizabeth Neal in 1763, had fourteen children. The eldest, Isaac (II) (1769-1852) inherited the house in St Mary Axe, and the Baltic timber business, together with his brother Edward. Another of their sons was named Samuel (II) (you can see how the opportunity for confusion mounts!)
Isaac II, married to Mary Harrison in 1795, had ten children, including Isaac III (1799-1870), Henry, excentric reformer, (1813-1903), and Samuel (III), a noted Surgeon (1805-1871).


Samuel (I) Solly, married to Sarah Horseman, had two sons, Richard Horsman Solly (1774-1858) and Samuel Reynolds Solly (1781-1866).
Richard Horsman Solly died unmarried without issue. Samuel Reynolds Solly, married to Frances Hammond, had one son, William Hammond Solly (1814-1888), and three daughters.
William Hammond Solly, married to Catherine Elizabeth Goldfinch, had three children, Henry Reynolds (1854-1897), Catherine Alice Hammond and Mary Horseman, who married in 1881 the Rev. Francis Hodgson (then the vicar of Abbots Langley).


The documented ownership of Serge Hill.
Most people seem to have taken their information regarding the ownership of Serge Hill from Hastie's book in which he confidently states that,
"......We know that Mr Isaac Solly had been resident at Serge Hill from 1804. He was succeeded at Serge Hill by by Mr Samuel Reynolds Solly (born 1814), who in turn was followed by his son William Hammond Solly in 1866 ......"
You can see from the tree above that Isaac 1 died in 1802, so Hastie must be referring to Isaac II.
A similar statement, referencing Hastie, appears on the 'Hertfordshire Genealogy' web site, but is worded slighly differently, stating " Isaac Solly was there in 1804 and was succeeded by his son, Samuel Reynolds Solly."
This sequence of events seems unlikely on three counts. Firstly Samuel Reynolds was his first cousin, not his son! Secondly Isaac II had just inherited in 1802, along with the lucrative Baltic timber business, his father Isaac I's large house in St Mary's Axe, at the heart of the London Baltic trading area, and, thirdy, if it was his, why would he bequest this property to his cousin when he has 10 children of his own to whom he could have left Serge Hill.
Now the 'History of Hertfordshire' has a more probable Scenario:
" Serge Hill was bought by Samuel Solly, esq., son of Richard Solly and Anne Holles (sic), of Walthamstow, his wife.......This Samuel Solly, on 28th August 1776, married Sarah, daughter of Dr Samuel Horsman and Mary Reynolds his wife, by whom he had issue Richard Horsman Solly, who died unmarried in 1858, and Samuel Reynolds Solly. Samuel died in 1807, leaving his estates in Hertfordshire to his second son Samuel Reynolds ......"
This is confirmed by Samuel Solly's will (excerpts below), but neither source actually gives us the date when Samuel (1) made his purchase of Serge Hill. We have to look to other sources which indicate ownership at certain points in time, and these are not mutually consistent......
"...I give and Devise unto my Son Samuel Reynolds Solly ... messuage or tenements and dwelling house ..... situate lying and being at or near a place called Serge Hill in the Parish of Saint Stephens in the County of Hertford the copyhold part whereof I have surrendered to the use of my will and to which premises I purchased of the Steward of Saint Julians.
So the house Serge Hill was purchased from 'the Steward of Saint Julians' . The estate of the Hospital of Saint Julians had a colourful history leading up to this time.
"...I also give and devise unto my said son Samuel Reynolds Solly and to his heirs and assigns forever all that piece or parcel of land ***** about the area being part wood and part arable land held by Copy of Court Roll of the Manor of Windridge situate in Serge Hill aforesaid which I purchased of John Edmonds Bayley...."
Note that the above refers to the surrounding land, and not the house Serge Hill itself. John Edmonds Bayley (Bailey) was the owner/occupier of Cuckman's farm in Ragged Hall Lane, and also previously owned Millhouse farm.
An Obituary published in The Gentlemans Magazine in 1807 refers to 'Samuel Solly esq. of Serge Hill' when he died, and also noted that he had been at his house in Great Ormond Street when he died.
There is a record that Samuel Solly insured Serge Hill with Sun Alliance on Sept 14th 1792 (ref. London Metropolitan Archives)

This is the earliest verifiable date for ownership of Serge Hill by a member of the Solly family.

A possibly earlier indication to a member of the Solly family being in possession of Serge Hill (though once again which Solly, and exactly when, is not stated.) comes from William Urwick's work "Nonconformity in Herts" in which he describes the building of a chapel in Dagnall Lane, St Albans, in 1697, and comments that " Among the early names connected with the place were John, Matthew, William, and Joshua Iremonger Kentish, Miss Corbet, Mrs. Edwin, Mr. Solly of Serge Hill, W. Towgood. The first minister, who came in the year 1698, was the Rev. Jonathan Grew, DD. "
Urwick also lists the original Trustees " ...in this Deed of 11th October, 1698, are Matthew Iremonger, Thomas Jones, William Grunwin, William Smith, Joshua Lomax, Jabez Earle, Jonathan William Enowlton, Ralph Thrale. Grew, William Pembroke, John Eeles." (No Solly in the 1698 original list of Trustees then.)

So we can still only say that this 'Mr Solly' (and we don't know which one!) of Serge Hill was active within the Nonconformists of the Dagnall Lane Chapel, some time between it's inuguration in 1698, and when it was sold in 1895 !!!


There is work still to be done here, including a trip to the records office in Kew to inspect the Manorial Rolls of Windridge and other records.
Copyright. These web pages © Lesley Brooks. Where images and text are drawn from other sources, copyright is acknowledged whenever known, and links to those sources provided where required or appropriate.
Any use of this material, for any purpose, must be credited, with due reference, including the URL, and a link provided back to these pages when online.