Notable Occupants of the Grand Houses of Abbots Langley
web site researched and maintained by Lesley and Tim Brooks, Abbots Langley.

The Manor House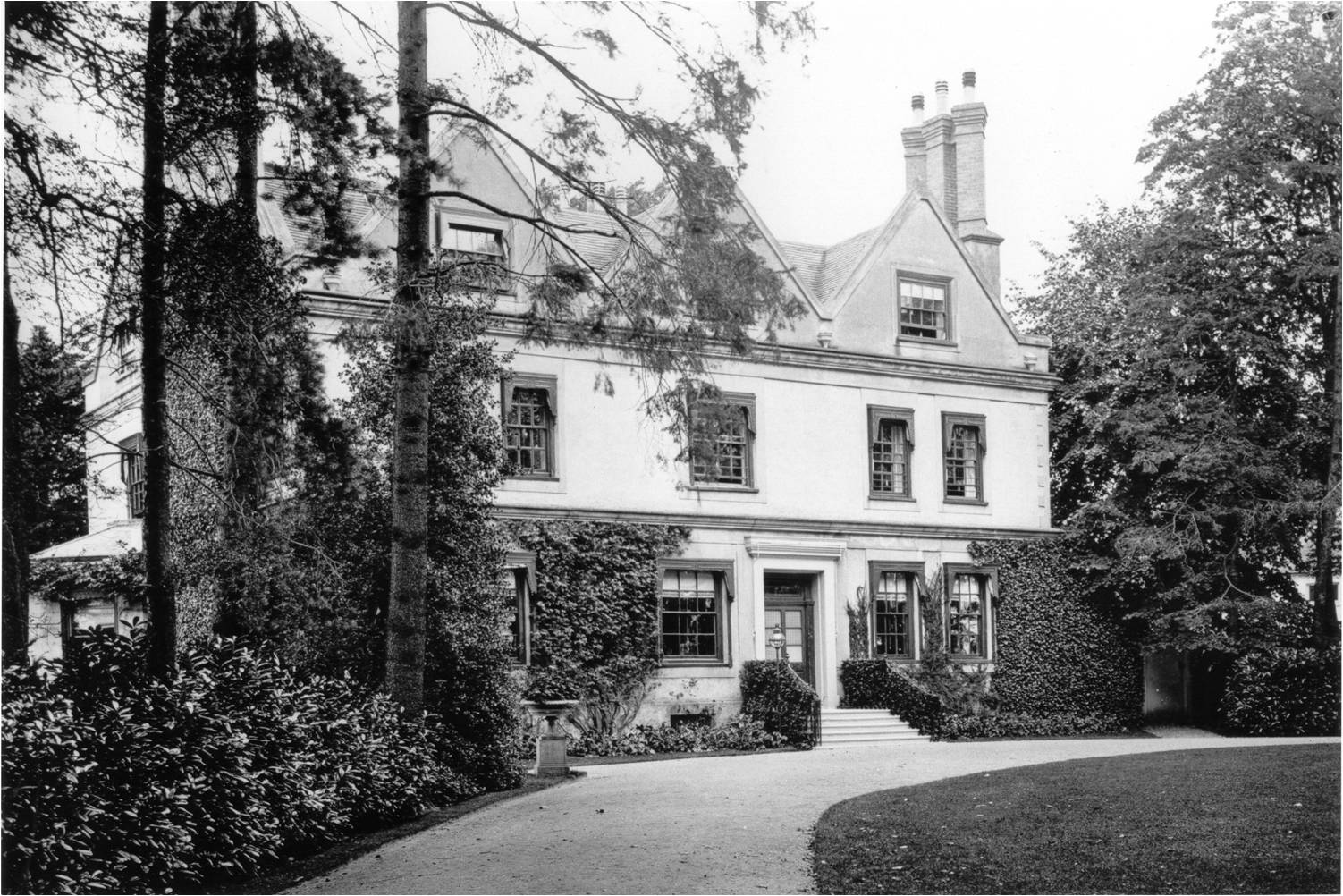 Built c 1640, demolished 1953.
The Manor-House stood where the car-park behind the police station is now, below all those cars lie the Manor House cellars, filled with rubble from the demolition! Part of the walled garden remains as the allotments behind the council depot, which itself now occupies the former stable-yards.
Today's Police Station was originally the Billiard room attached to the Manor House, just to the right of the photo above.
The structure that survived into the twentieth century was a seventeenth century house with three gables and tall chimneys. It had been built over the moated site of an earlier structure and internally it showed some surviving traces from the Elizabethan and Jacobean ages. From 1641, until its demolition in 1953, Abbots Langley's Manor House was owned, through Francis Combe's bequest, by two principal university colleges: Sidney Sussex, Cambridge and Trinity College, Oxford.
This, and more, is described in an article by Lesley Brooks on the Manor House, published in 2012 in the Abbots Langley Local History Society Journal no 36.
Note that since this article was published we have learned that the reference to Sir Richard Lee is incorrect, as he was only granted the Langleybury estate. The remainder of the Abbots Langley Manor remained in Royal hands until granted to Francis Combe in the 17th century.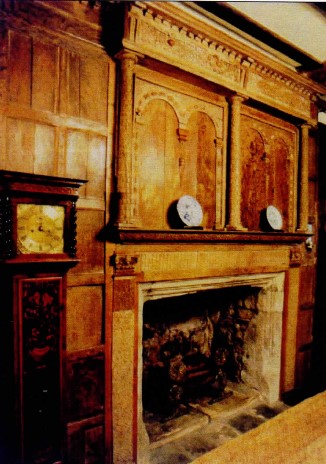 Panelling from Abbots Langley Manor House, now in Washington Hall, Tyne and Wear - Photo: Mike Quinton.
Two separate articles have been published in ALLHS Journals telling how this panelling ended up in Washington Hall, the first in Journal 3 by Clive Clark, and the second in Journal 36 by Kate Quinton.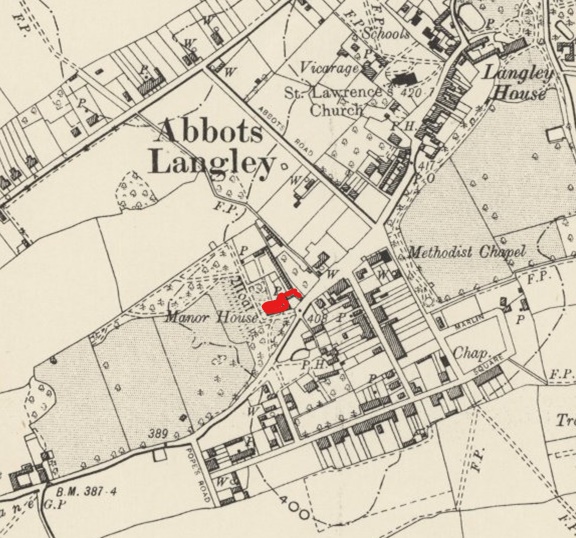 Map showing location of The Manor House relative to the village centre.
The Notable Occupants of The Manor House
Anne Combe (baptised 27 Jul 1595 – Nov 5th 1640).
Occupant, The Manor House, 16??-1640.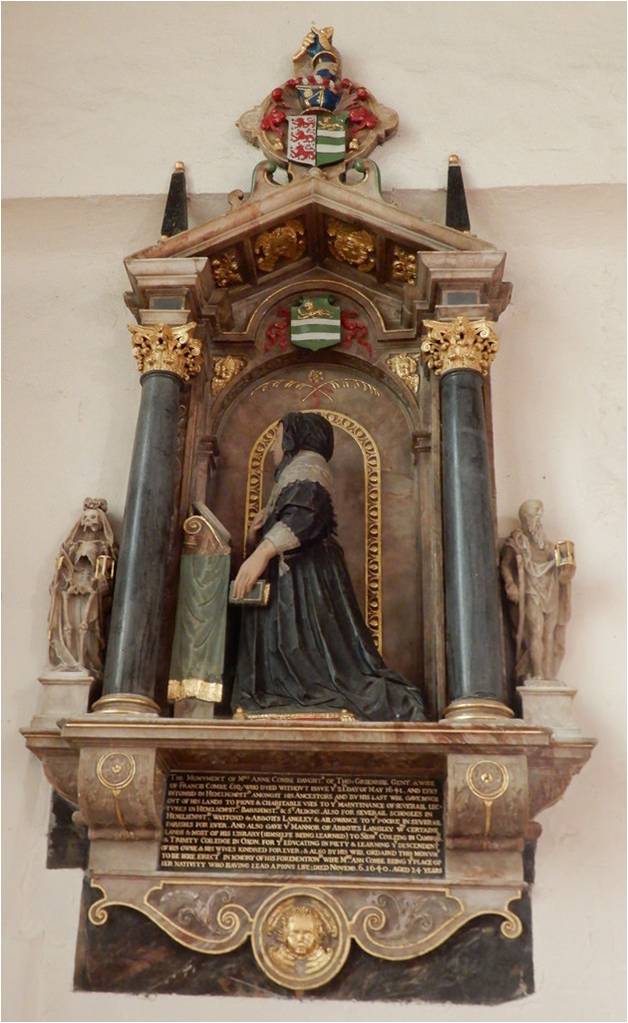 Anne Combe's Monument in St Lawrence's Church, Abbots Langley.
Anne was the wife of Francis Combe who we know was a wealthy miller from Hemel Hempstead, and sister-in-law of the famous Elizabeth Greenhill, neé White, of Hyde Manor, who had 39 children.
Dr John Harness M.D. F.L.S.(1754–1823).
Occupant, The Manor House 1820-1823.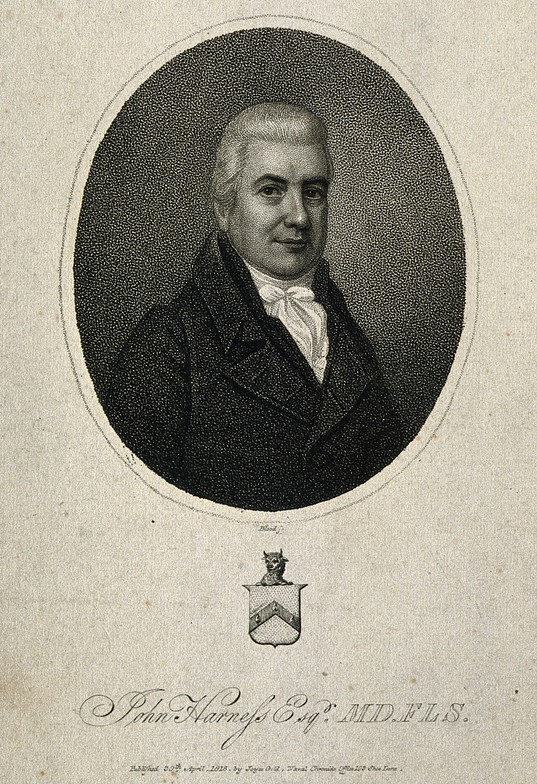 1818 Stipple engraving by Thomas Blood of John Harness, from the Welcome Collection. Public Domain.
Naval physician and surgeon, Medical Commissioner of the Transport Board.
Amongst John Harness's achievements was that in 1793 he went to the Mediterranean as physician to Admiral Lord Hood's Toulon expedition, during which he pioneered the use of 'citrid acid' (lemon juice) against scurvy. From 1816, when Sir Gilbert Blane's pamphlet 'On the Health of Seamen' ignored this and took credit for its wider introduction, Harness spent his remaining years in a correspondence campaign to reassert his contribution!
His son, Wiliam Harness(1790–1869), was author of a 'Life of Shakespeare,'.
Sir Samuel Canning, Bart. (1823–1908).
Occupant, The Manor House 1868-1874.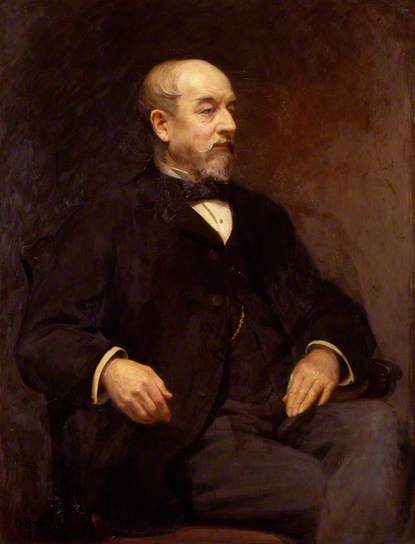 Image of 1897 portrait of Sir Samuel Canning by Beatrice Bright, from the Institute of Civil Engineers is in the public domain.
English electrical engineer involved in submarine telegraphy.
Mr John Inett Ward (1833-1921).
Occupant, The Manor House 1892-1921.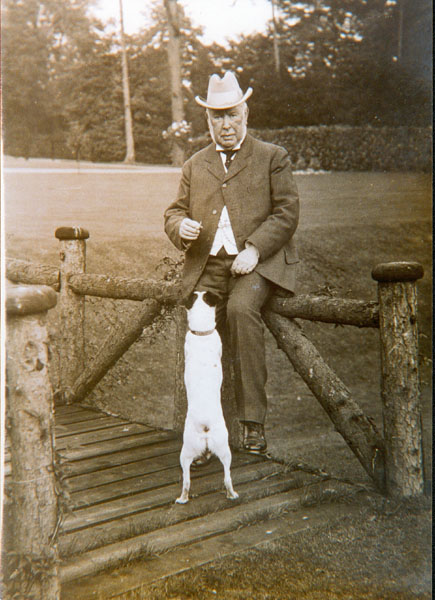 Reference: 100110a, Date: c1910 Collection: Parish Archive, Source: David Spain.
Mr John Inett Ward is standing on a bridge presumed to be located over the linear feature marked as 'Moat' on older maps. This can barely be discerned today between the Community Centre and the Tennis Courts.




Members of the Ward Family.
Occupants, The Manor House. Photo 1905.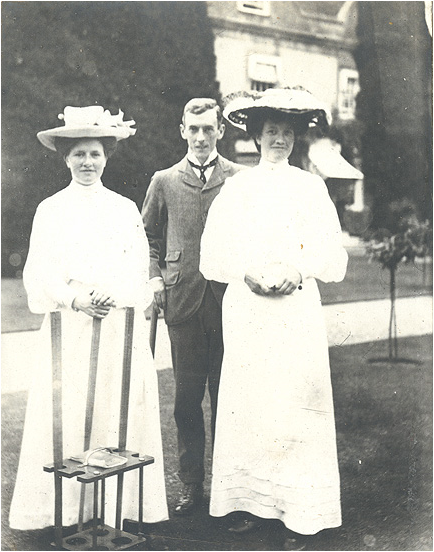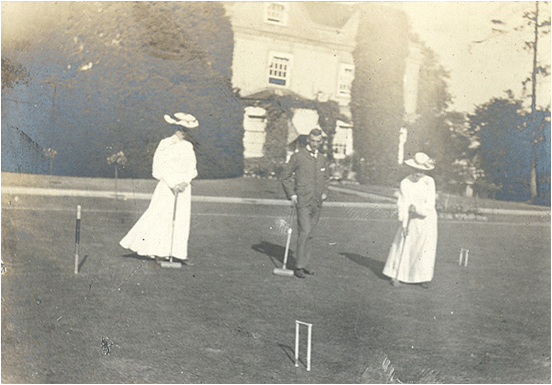 John's daughters Nellie and Gertrude Ward play croquet in front of the Manor House with Doctor James.
Nellie, having married William Rudston Faulconer in 1921 became well known in Abbots Langley as Nellie Faulconer. They lived in 'Bargarran', No 78 Gallows Hill Lane ( Subject of a planning request for demolition and replacement by 5 new houses at time of writing in June 2021)
note: 'Faulconer' is repeatedly misspelt in many of the reference sources we have used.
In 1953 Nellie donated a vase to the Abbots Langley Gardening Society, which is awarded to the exhibitor gaining the most points in the Arts & Craft category in their Autumn Show.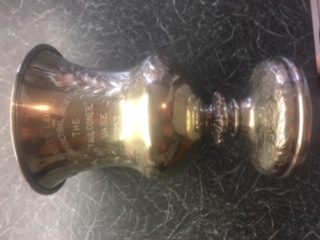 The Faulconer Vase.
There is a long article about the Ward family, by Audrey Ashby, published in 2008 in the Abbots Langley Local History Society Journal no 28.



Copyright. These web pages © Lesley Brooks. Where images and text are drawn from other sources, copyright is acknowledged whenever known, and links to those sources provided where required or appropriate.
Any use of this material, for any purpose, must be credited, with due reference, including the URL, and a link provided back to these pages when online.