Notable Occupants of the Grand Houses of Abbots Langley
Web site researched and maintained by Lesley and Tim Brooks, Abbots Langley.

The Abbots House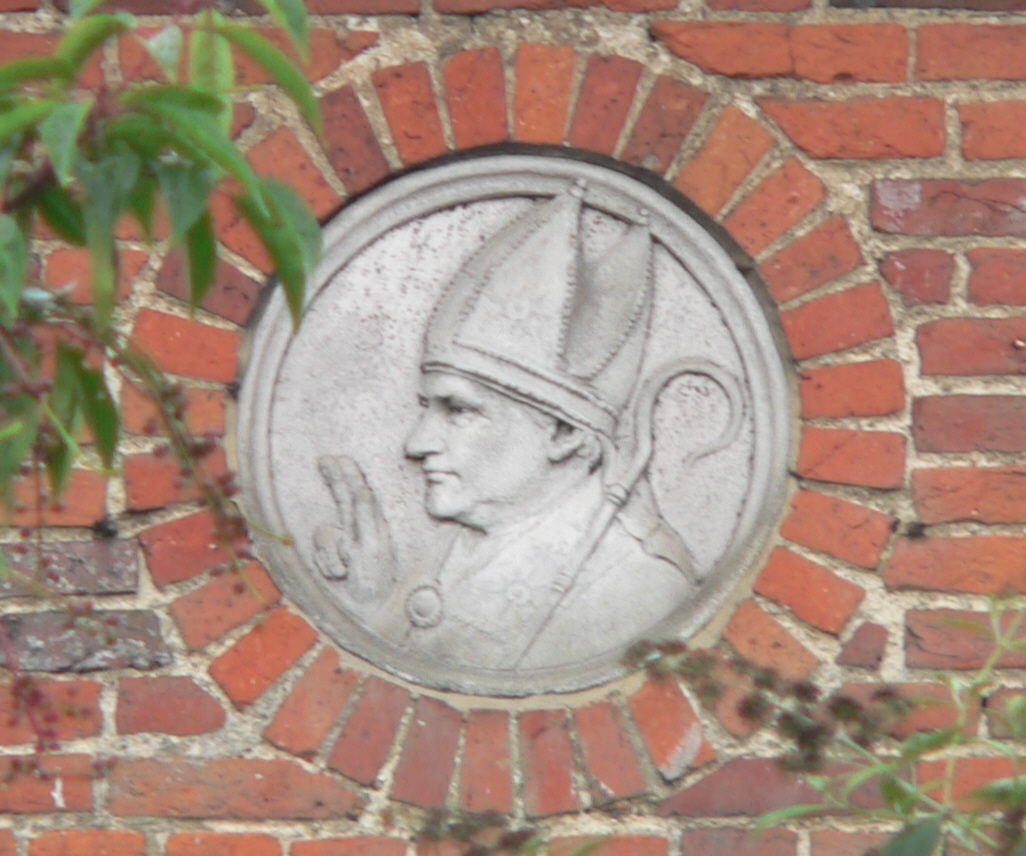 Detail of 'Abbot' bas-relief on the front of The Abbots House - photo © Tim Brooks 2013.
This feature was designed, created and installed by Thomas Armstrong C.B.
He modelled the face on Dr John Wogan Festing, then Bishop of St Albans!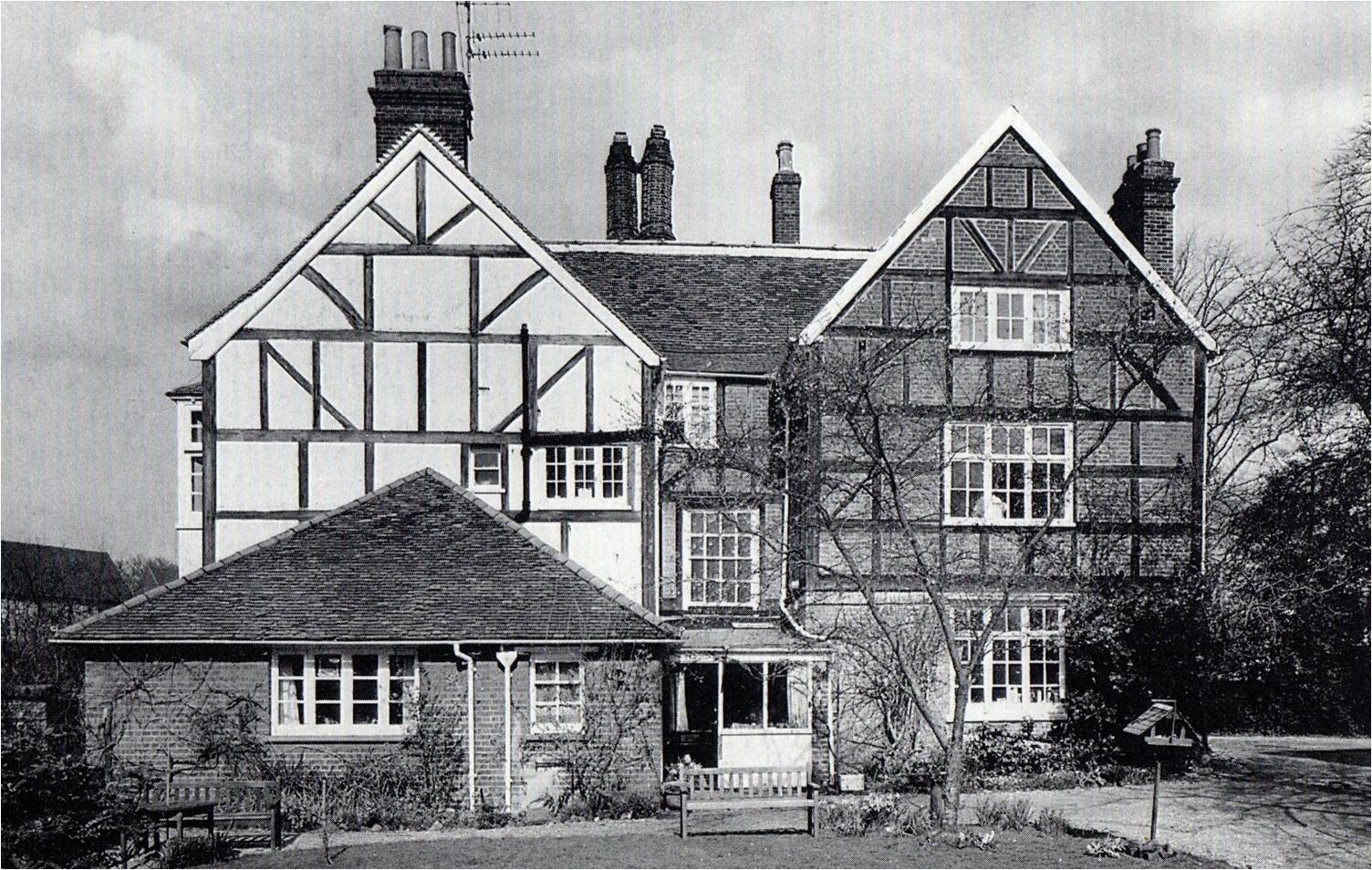 Rear view. Earliest elements c1600 and since much extended.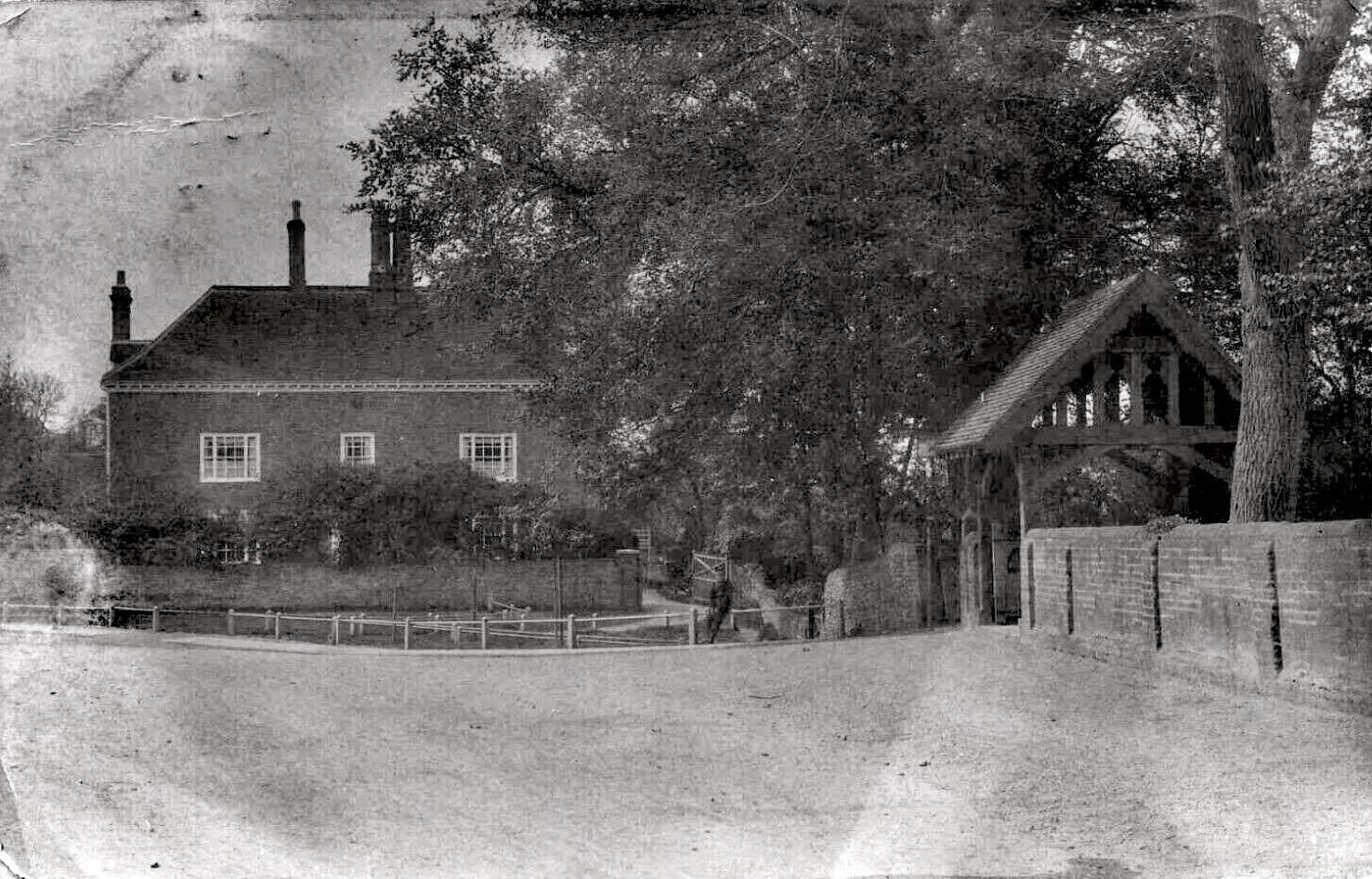 Front view of Abbots House. Date unknown. Source - St Lawrence Church, Abbots Langley.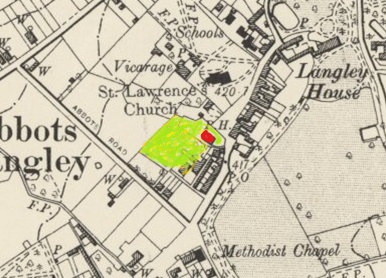 Map showing location of The Abbots House relative to the Church.
Built on the site of an early farmstead, The Abbots House, a grade II listed building, stands on a corner close to the church of St Lawrence. It has a deceptively simple Queen Anne frontage, which conceals a long and complex history. It is known that the oldest part of the current house is the southeast side, which dates from 1600. This section was built with 2 storeys and attics, and was truncated at the northeast end in the 18th Century. A large timber-framed structure of this type could have been a wing of the kind normally added to a large medieval open hall. The bulk of the surviving historic structure is late 17th Century, of mixed construction, hidden behind the neo-Georgian facade.
The Notable Occupants of Abbots House
John Smith (1734-1797).
Maltster and Mealman.
Occupant, Abbots House 1795-1797.
John Smith's property holdings included The Unicorn public house, which he purchased (from Nathanial Hitchcock?) in 1786. (ref: Hertfordshire Genealogy website).
In 1795 John Smith is reputed to have bought Abbots House house from Anne Clarke's executors (ref: Clive Clark).
An article "Mr John Smith, Gentleman" about John Smith, researched by Wanda Foulkes, was published in the ALLHS journal no 50, Spring/Summer 2019. The text of it is reproduced here.
Thomas Smith (xxxx-1805).
Mealman.
Occupant, Abbots House 1797-1805.
From the abstract of the title of the British Land Company Limited to land in Abbots Langley, it appears that there had been some dispute over the inheritance of John Smith's Estate....
"Then at that Court came Thomas Smith of Abbots Langley aforesaid Mealman and produced a Will of said John Smith deceased dated 17th May 1797 wherein after giving sundry legacies he gave and devised as follows..."
'...and I give devise and bequeath unto my nephew Thomas Smith of Shafford Mill in the parish of Saint Michael in the said county of Hertford All my freehold and copyhold estates whatsoever and wheresoever.... '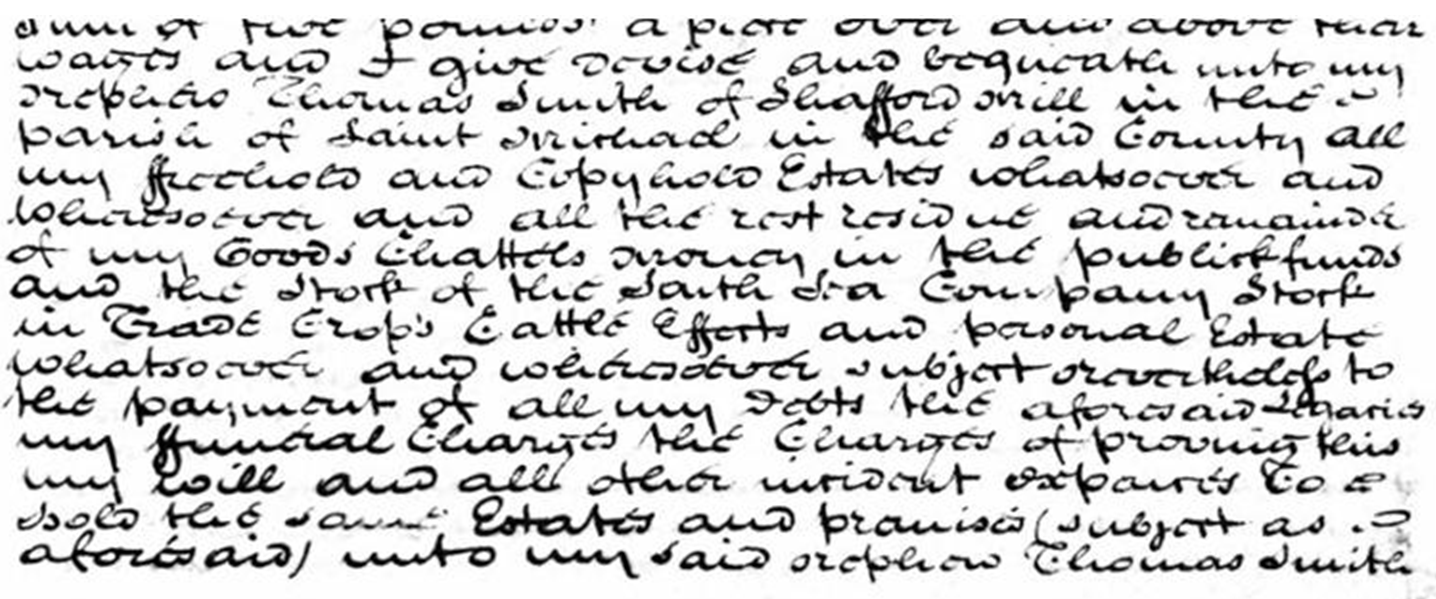 Sarah Smith (née Warren) (1778-1866).
Landowner. Widow of Thomas Smith, gentleman.
Occupant, Abbots House 1798-1866.
On the death of her husband, Thomas, Sarah Smith became the owner of a considerable estate of land in the Abbots Langley area. In 1839 she was the tithe and land owner of over 96 acres in Abbots Langley, including Causeway House. She also held the tithes for Tanners Farm (about 43 acres).
A map of the area drawn up by Trevor and Wanda Foulkes showing her possessions at that time is here on the ALLHS website.
Following Sarah's death a large part of this estate was sold to the British Land Company, who split much of it into plots for building, and sold them piecemeal to local builders.
It is on this land that all of the houses now in Abbots Road, part of Dell Meadow, the High Street between Abbots House and Causeway House, Langley Road, Marlin Square, and the Western end of Popes Road were subsequently built
An article "Searching for Sarah" about Sarah Smith, researched by Wanda Foulkes, was published in the ALLHS journal no 47. The text of it is reproduced here.
Thomas Armstrong CB (1832-1911).
Artist, Administrator, Director of Art at the South Kensington Museum (Now the V&A).
Occupant, Abbots House 1890-1911.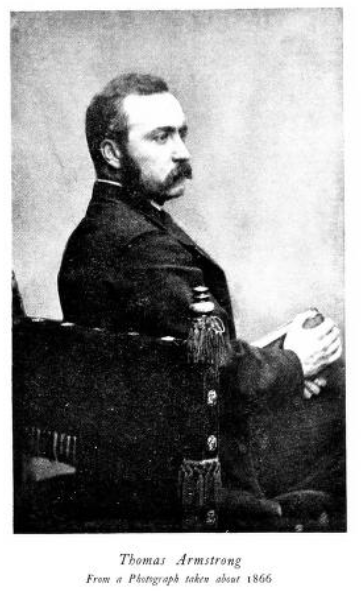 From 'Thomas Armstrong C.B. A Memoir' - public domain.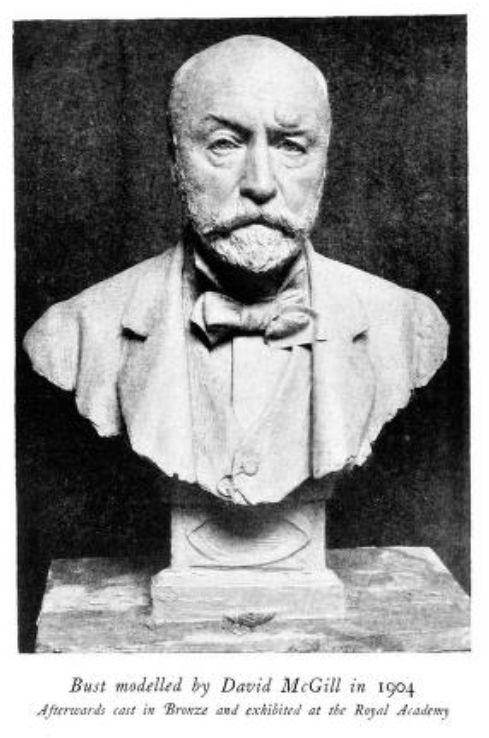 Bronze bust of Armstrong. From 'Thomas Armstrong C.B. A Memoir' - public domain.
The Bust, and the marble plinth it stands on is now the property of the V&A.
Without the plinth it is currently displayed in the Reading Room of the National Art Library, together with busts of other former Directors of the Museum.
More information on the V&A website here.
A talented artist in his own right, Thomas Armstrong worked with leading artists of his day and in 1881 became Director of Art at the South Kensington Museum, later to become the famous Victoria & Albert Museum.
Married to Mary Alice, daughter of Colonel Brine of Shaldon, Devon in 1881 , their only child Ambrose died in 1894, aged 11.
In memory of Ambrose, Thomas created a mural tablet in plaster and copper as a memorial for him in the church at Abbots Langley.
Read more about Thomas Armstrong on the ALLHS website here
and in Wikipedia here.
Ambrose Armstrong (1883-1894).
Occupant, The Abbots House 1890-1894.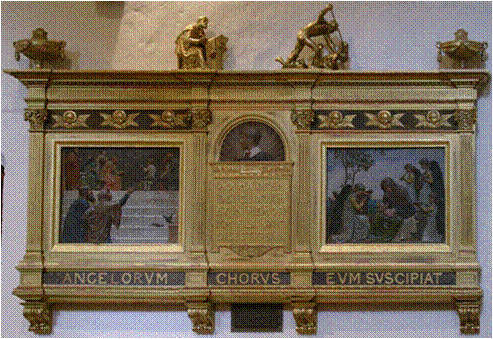 The Ambrose Armstrong memorial in St Lawrence's Church, Abbots Langley
Marghanita Laski (24 October 1915–6 February 1988).
Occupant, The Abbots House 1937-1945.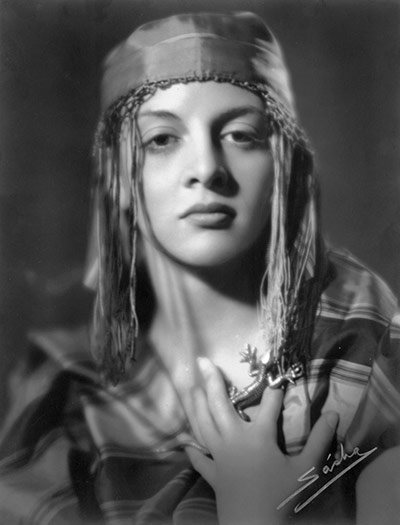 portrait may be copyright - copyright holder unknown.
English Journalist, radio panellist and novelist.
Author of 'The Village' a thinly disguised account of life in Abbots Langley in the post war years.
Hers was a familiar voice on on the popular UK BBC panel shows What's My Line?, The Brains Trust, and Any Questions?
Read more about Marghanita Laski in Wikipedia here.



Since 1954 The Abbots House has been the property of the late Dr. Peter Tomson, and his wife Sue.
The outhouses and lovely gardens are used for many village social events, raising funds for the Red Cross and Médecins sans Frontières.



Copyright. These web pages © Lesley Brooks. Where images and text are drawn from other sources, copyright is acknowledged whenever known, and links to those sources provided where required or appropriate.
Any use of this material, for any purpose, must be credited, with due reference, including the URL, and a link provided back to these pages when online.