Notable Occupants of the Grand Houses of Abbots Langley
web site researched and maintained by Lesley and Tim Brooks, Abbots Langley.

Cecil Lodge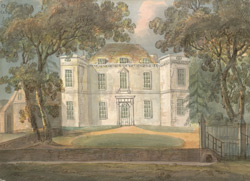 Built c1760, demolished 1953.
Cecil Lodge and its surrounding estate stood on the Bedmond Road looking up Abbots Langley High Street , (across where the mini-roundabout is today).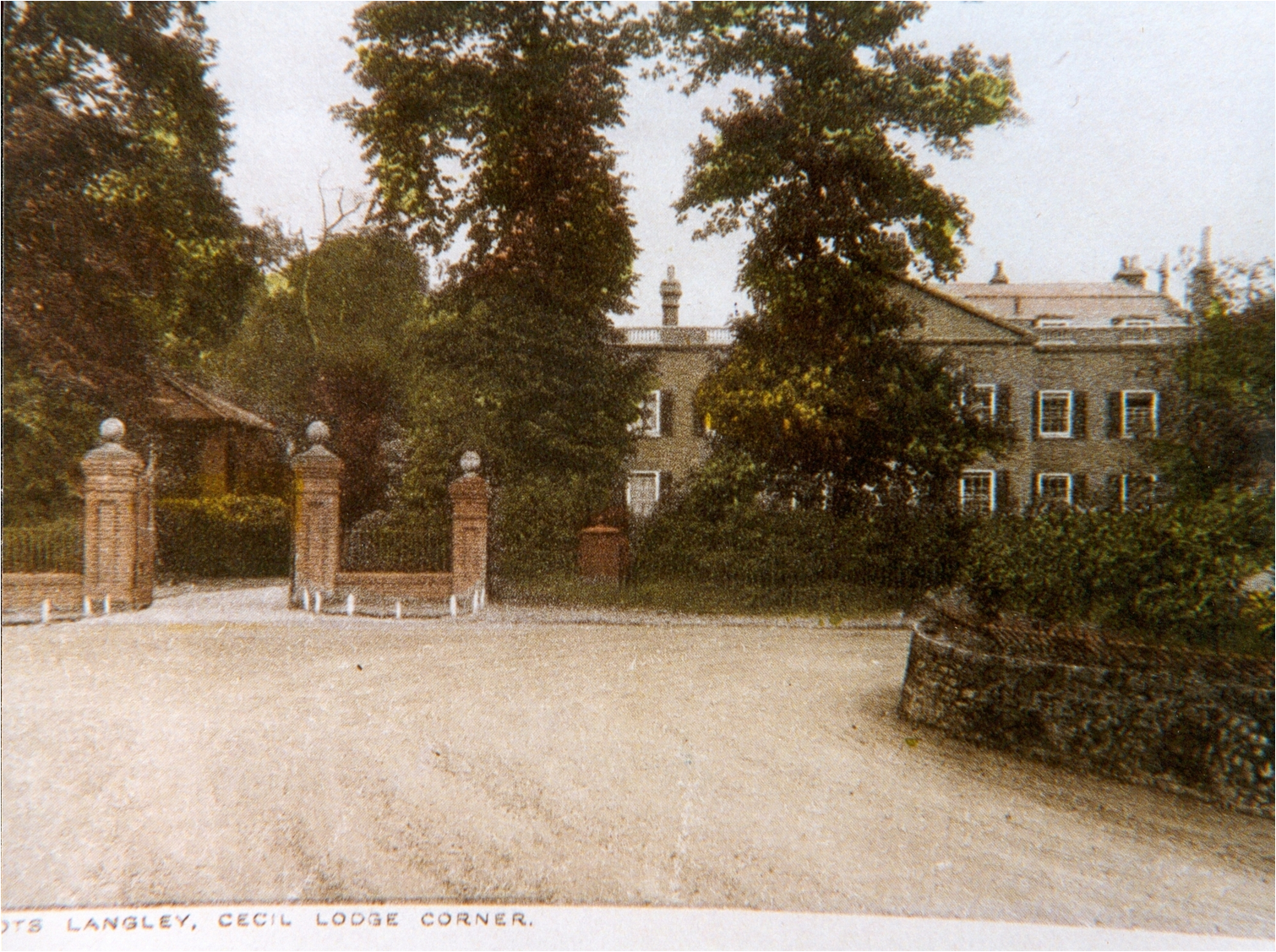 Another view of Cecil Lodge.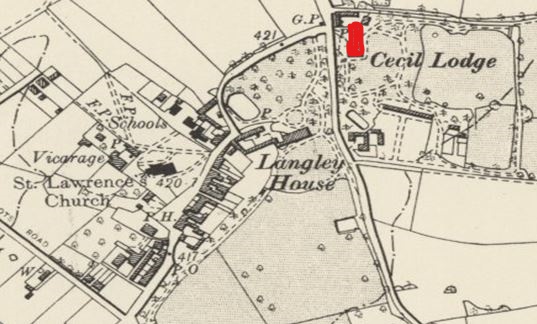 Map showing location of Cecil Lodge relative to the Church.
The history of the building is described in an article by Clive Clark on Cecil Lodge, published in 1994 in the Abbots Langley Local History Society Journal no 1.


The Notable Occupants of Cecil Lodge
James Cecil, Viscount Cranborne, (later, 1st Marquess Of Salisbury).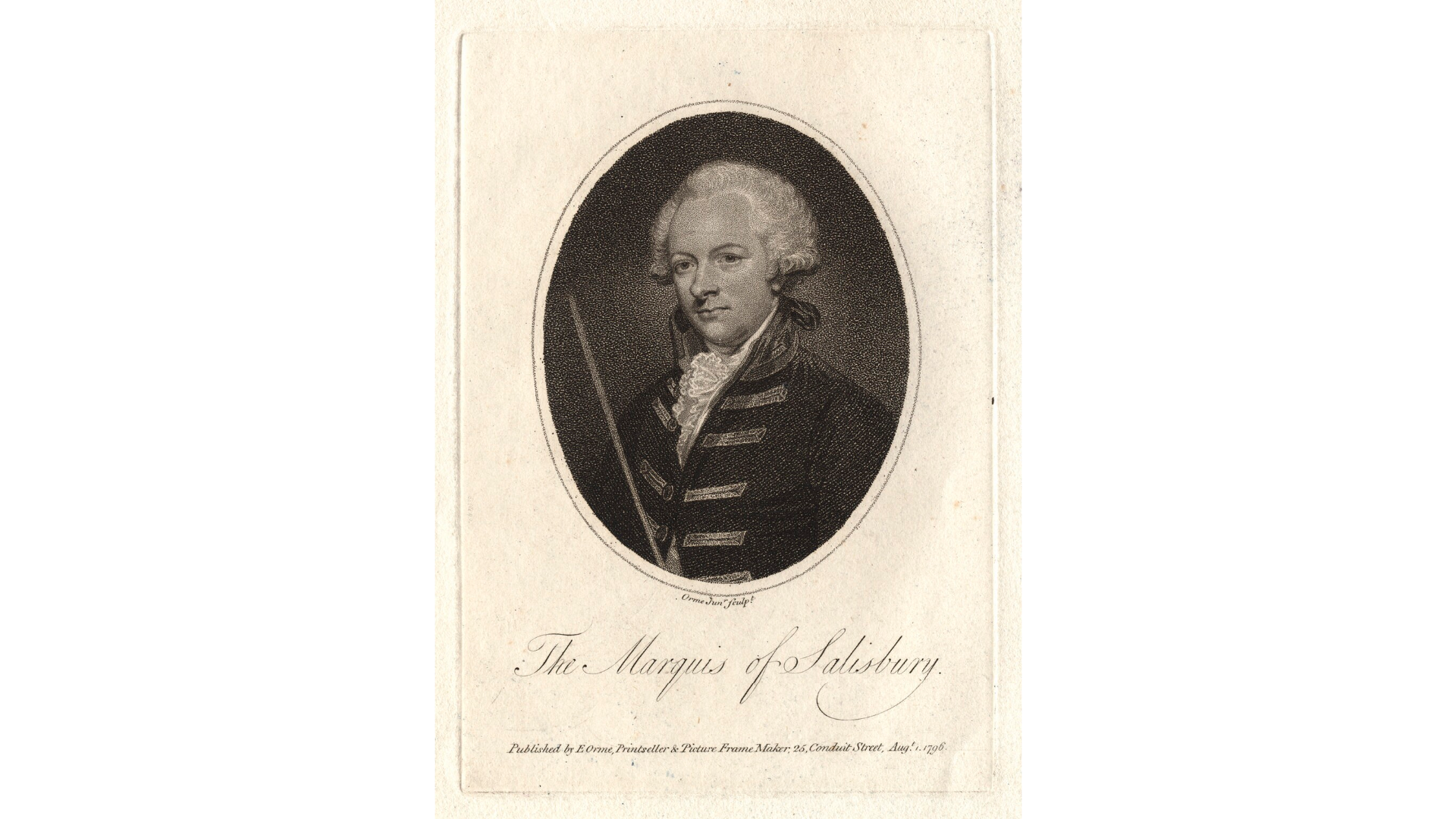 Owner/occupant, Cecil Lodge 1773-1780.
Portrait by by Daniel Orme, published by Edward Orme stipple engraving, published 1 August 1796. Collection of the National Portrait Gallery ref NPG D13724.
Information from William Noble is that that Lady Browne bought Cecil Lodge in 1773 from a Mrs Legrande for her nephew Lord Cranborne (James Cecil) as a wedding present.
They lived there for seven years until he moved to Hatfield House to take up his seat, when his sister-in law, the widowed Lady Charlotte Hill, Countess Talbot, moved in, staying for a further 4 years.
Read more about James Cecil here.
Lady Emily Mary Hill Countess of Salisbury (wife of James Cecil above).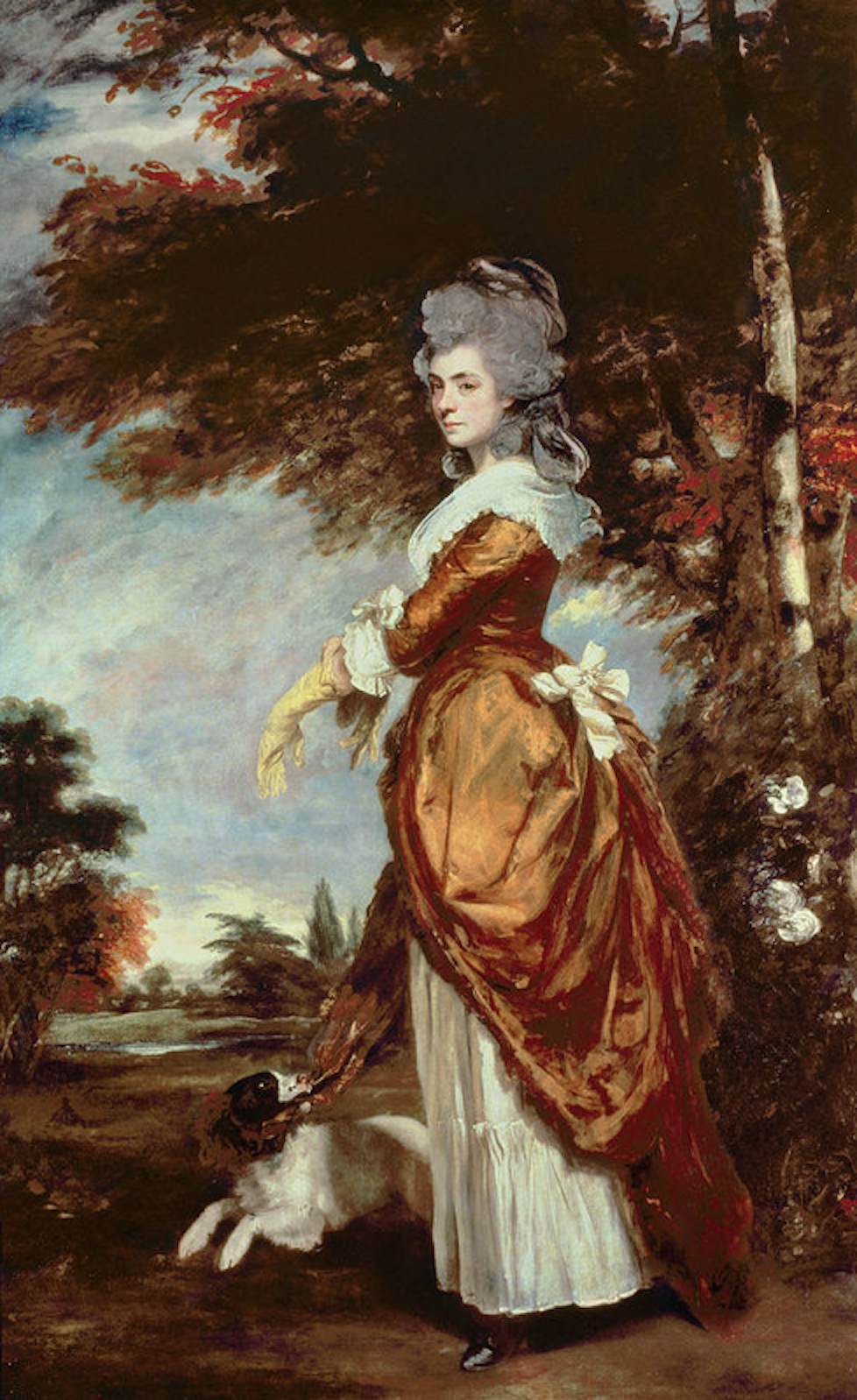 Occupant, Cecil Lodge 1773-1780.

Lady Charlotte Hill Countess Talbot of Hensall.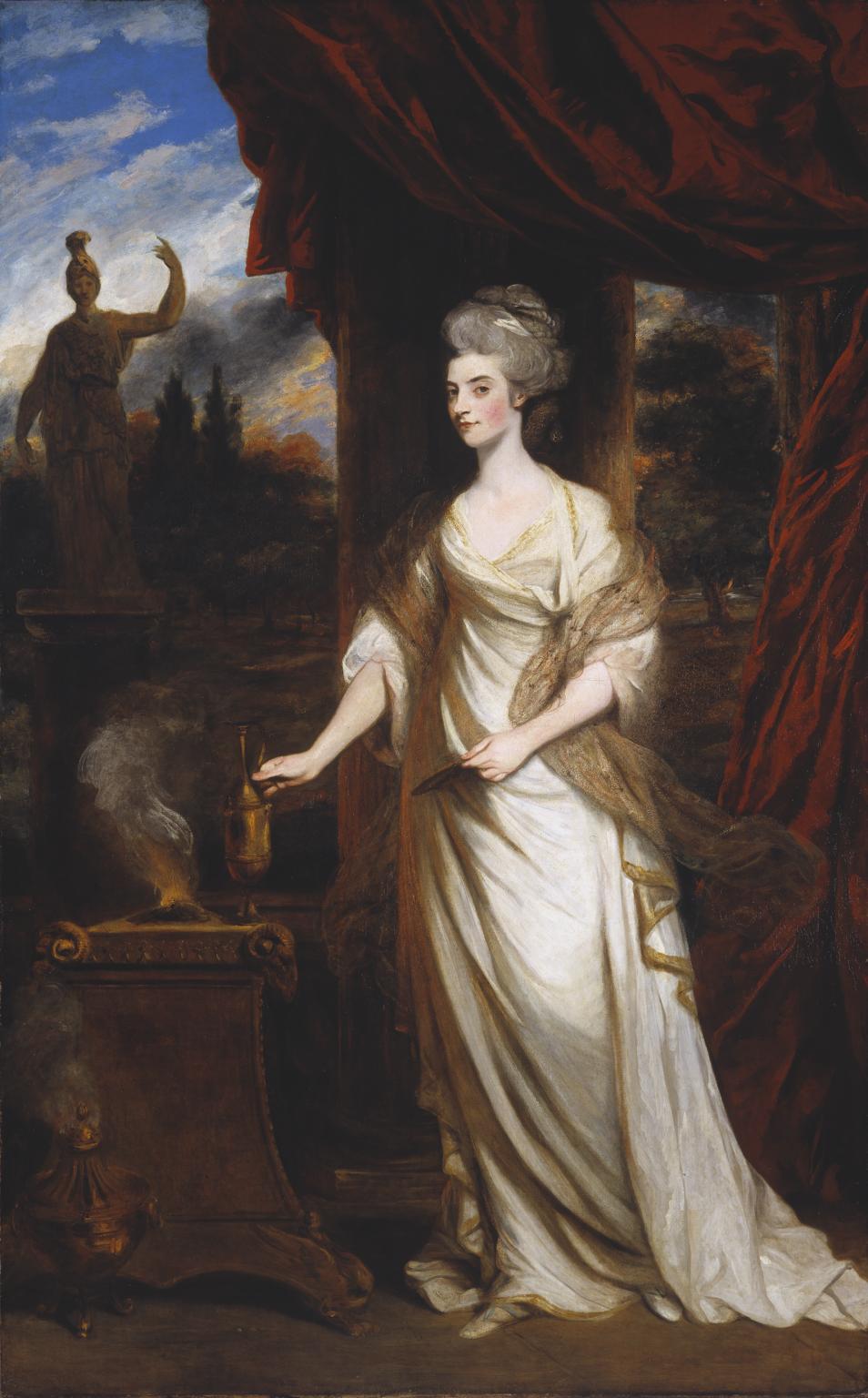 Occupant, Cecil Lodge 1780-1804.

Portrait of Lady Talbot by Sir Joshua Reynolds 1723–1792 Tate Britain . Photo © Tate Images ID #: N05640.
The Mure Family (sometimes MUIR).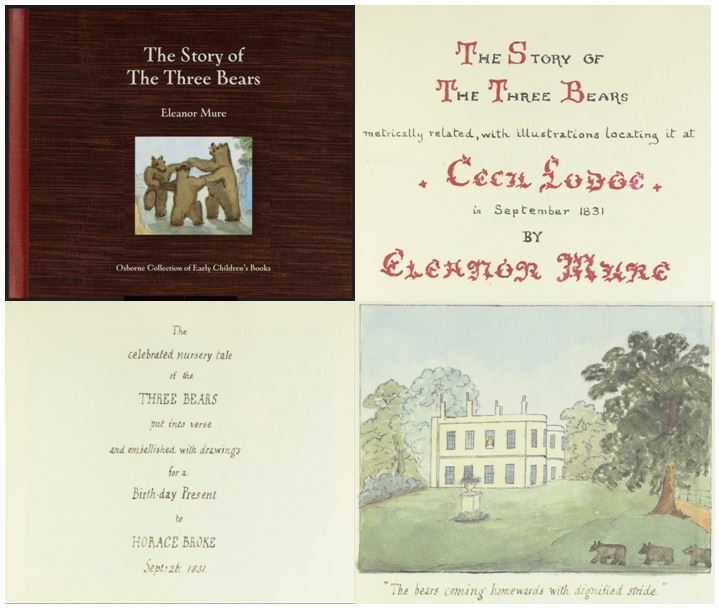 See a reproduction of the complete Three Bears manuscript held in Toronto Library here.
Occupants, Cecil lodge 1832-1848.
Noted here because Eleanor Mure produced a hand-made story-book telling the traditional story of 'The Three Bears' in rhyme for her nephew, Horace (then 4 years old).
The 1841 Census shows the occupants as James Mure (81) (his wife, Frederica Sophia Mure, née Metcalfe, is not listed, having died in 1834)
....together with some of their children....
Frederica Sofia (45) (I have assumed that Frederica is wrongly listed in the census as 'Federick) and her husband (Horatio) George Broke (50), - parents of Horace, 14 at the time of the census, but not listed.
Eleanor(40)- who wrote the book, Catherine (45), Harriet (40) , and her Daughter, also Harriet (5)
and 13 servants.
There are prominent monuments erected by the Mure family in St Albans Cathedral described in an article by Roger Shepherd, together with an extract about the Mure family, from Clive Clark's book, both published in 2004 in the Abbots Langley Local History Society Journal no 21


W H Smith.
Bookseller.
Occupant, Cecil Lodge 1864-1870.
Source: by John Douglas Miller, after George Richmond, mezzotint, published 1883 © National Portrait Gallery, London.
WH Smith expanded his father's booksellers and newsagent Business, by recognising the opportunity to have a stall on every Railway Station, and built the empire we know today. Hertfordshire Magistrate, and MP for Westminster, he rose to the position of first Lord of the Admiralty, and due to his lack of Naval experience was supposedly the model for WS Gilbert's character Sir Joseph Porter in HMS Pinnafore.
More about W.H. Smith here.
William Jones Loyd.
Owner, Cecil Lodge 1871-1885.
William Jones Loyd, already owner/occupier of Langleybury, purchased the Cecil Lodge Estate, which was in turn inherited by his son Edward Henry Loyd.
Cecil Lodge was leased out by them to a series of wealthy gentlemen.



Howard Gilliat.
Occupant, Cecil Lodge 1882-1889.
Gentleman.
In 1885 the Abbots Langley Waterworks Company was set up after Howard Gilliat helped to provide the capital, by investing in the new company. Initially the Lodge's water tower was employed but later water was being pumped from a new artesian well at Hunton Bridge up to a specially built tank located off Love Lane. The project was aided by William Turnbull at Rosehill, another notable resident of Abbots Langley.



Archibald James Wall.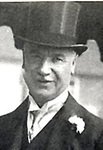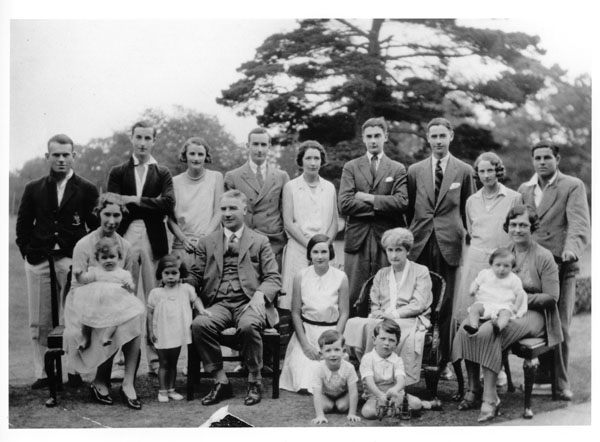 Entrepreneur.
Owner/Occupant, Cecil Lodge c1920- ????.
Photo Sources:
Archibald James Wall's Geni Profile.
Family portrait - David Spain via
Abbots Langley Local History Society Website photo archive.
Archibald James Wall was born in 1870 near Birmingham. His father died when "A.J." was five , so he was brought up by his mother, Sarah Jane, who came from the Norfolk family of Lemmon and around 1875 was left a widow with three young sons. She managed with some difficulty to send them all to St. Paul's school in London. In 1890 he answered an advertisement by Charles Coverley & Co. of Porto where he stayed for six months after which he returned to London where he received an offer of permanent employment from the same firm. In 1902 AJ left Coverley's and set up on his own in the Rua de Reboleira as a shipping agent for J. & P. Hutchinson (later Moss Hutchison Lines). A few years later he joined with Charles Chambers to form Chambers & Wall for the production of chinaware. He met his future wife, Beatrice Hardy, at a dance in Porto, and they were married in 1896. They raised a family of nine children, four boys and five girls. In 1911 he became known for his heroic work in rescuing a number of passengers from a tram that had plunged into the river Douro. For this deed he was presented with a silver plaque by the City. By the late 1920s he had amassed a small fortune, some quarter of a million pounds (a not inconsiderable sum in those days), and had purchased a property on the outskirts of Abbots Langley in Hertfordshire, called Cecil Lodge.(The purchase was probably made in the early 1920s). A separate building on the grounds housed an indoor tennis court, and it was there that A.J. played many a game of tennis. According to his daughter Cecily, he was a bad loser.


Copyright. These web pages © Lesley Brooks. Where images and text are drawn from other sources, copyright is acknowledged whenever known, and links to those sources provided where required or appropriate.
Any use of this material, for any purpose, must be credited, with due reference, including the URL, and a link provided back to these pages when online.