Notable Occupants of the Grand Houses of Abbots Langley
Web site researched and maintained by Lesley and Tim Brooks, Abbots Langley.

Langleybury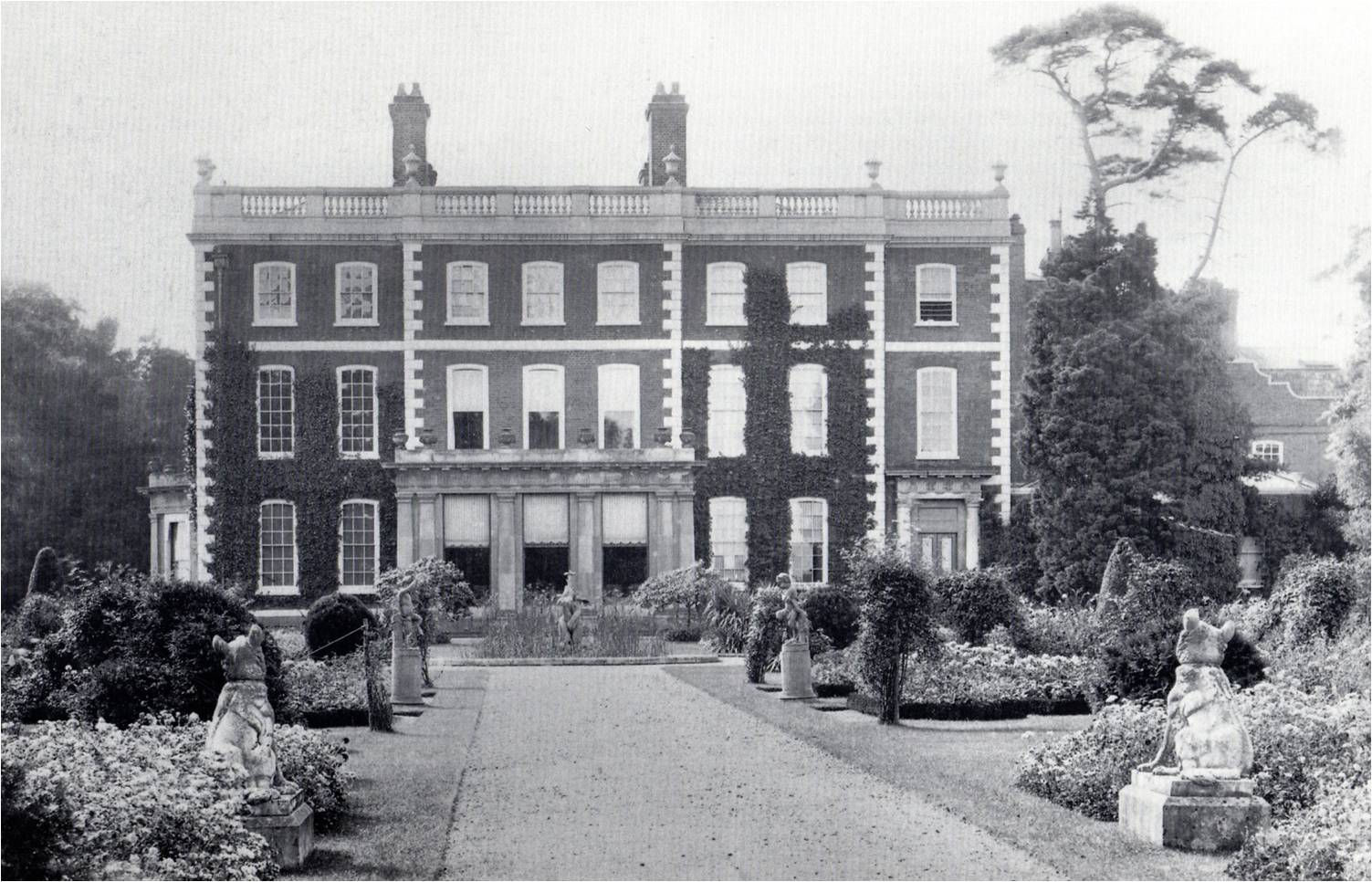 As rebuilt 1725-1728 for Robert, 1st Baron Raymond, who bought the estate in 1711.
A park was laid out around the house in the later eighteenth century. The Raymond's cipher, a griffin in a crown, can still be seen on the building.
In 1947 the estate was sold to Hertfordshire County Council who converted the house and grounds into a secondary school, named Langleybury School, which opened in 1949.Langleybury School closed in 1996 and for a time the building partly housed Hertfordshire County Council's Social Services offices. The house and its stable block (dated 1726) have since been converted into flats.

Map showing location of Langleybury relative to the Hunton Bridge.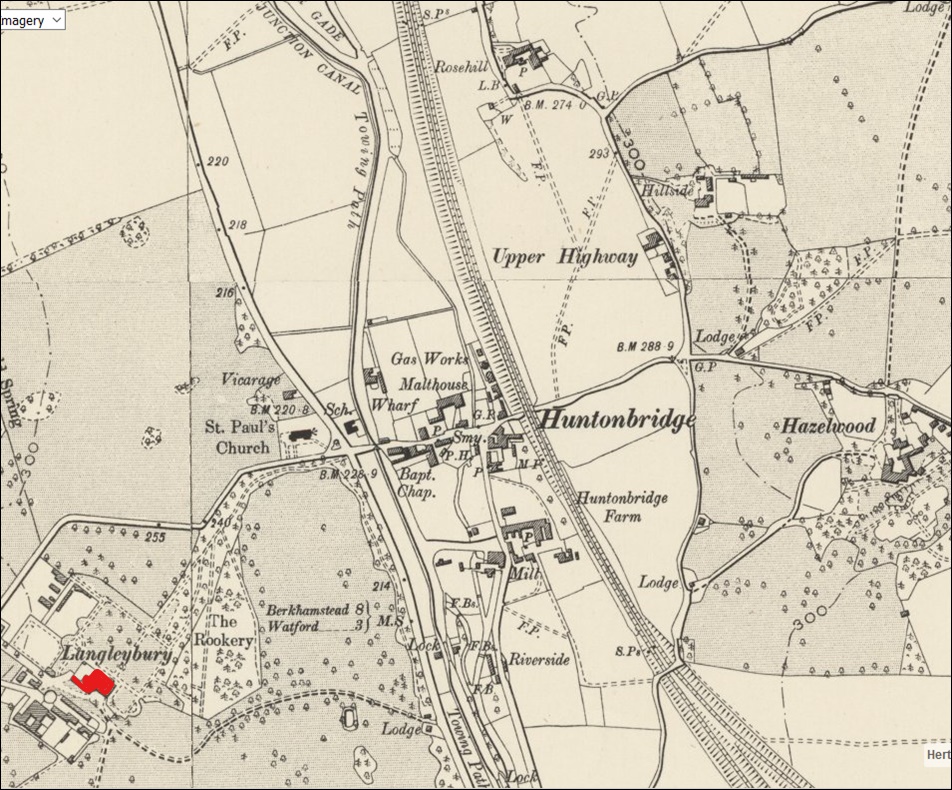 "From 1536 the site of the manor (Langleybury: Ed.) was leased separately from the manor (Abbots Langley: Ed.) itself, and was granted by the crown in that year to William Childe for a term of thirty-one years. Successive grants were made to various members of the Childe family, and it remained in their hands till 1711, when Thomas Childe and his wife conveyed the estate to Sir Robert Raymond, who left it by will to Beversham Filmer. He, dying unmarried in 1763, bequeathed it to his nephew, Sir John Filmer. It followed the descent of the family till 1838, when Sir Edmund Filmer sold it to Mr. Fearnley Whittingstall, and on his death in 1856 the estate was sold to Mr. William Jones Loyd, a banker of London, who, dying in 1885, left it to his son, Mr. E. Henry Loyd, the present owner, Langleybury stands on high ground in the south-west of the hamlet of Hunton Bridge. It is a red-brick house built in 1729, contains some old oak panelling, and was recently enlarged."
The above paragraph taken from 'Parishes: Abbot's Langley', in A History of the County of Hertford: Volume 2, ed. William Page (London, 1908), pp. 323-328. British History Online.
The Notable Occupants of Langleybury
Robert, 1st Baron Raymond,(1673–1733), Lord Chief Justice of England.
Occupant, Langleybury 1711-1733.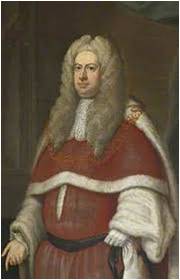 portrait Attributed to John Vanderbank. Examination Schools, University of Oxford.
Resident of Langleybury from the time he was Solicitor General until his death, having become Lord Chief Justice of England, and ultimately elevated to Baron Raymond of Abbots Langley.
Read more about Baron Raymond here.
Anne Raymond, Mother of Robert, 1st Baron Raymond (above).
Occupant, Langleybury 1710-1714.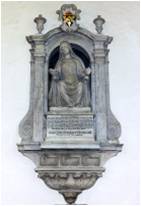 Memorial erected by her son in St Lawrence Church, Abbots Langley.



Robert, Second Baron Raymond (1717-1756).
Occupant, Langleybury 1717-1756.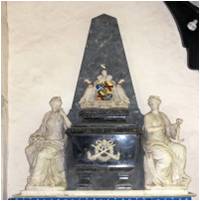 Memorial erected in St Lawrence Church, Abbots Langley.

A Lawyer in Lincoln Inn, married to Chetwynd Blundell, daughter of Viscount Montague Blundell and Mary Chetwynd - no other info.

On the death of Robert, without issue in 1756, Langleybury was left to Sir Beversham Filmer, 5th Baronet, of East Sutton in Kent. Chetwynd remarried - Robert Bertie in 1762

Click here for a diagram which shows the family connection between Robert Raymond and Sir Beversham Filmer which reaches back 5 generations!



The Filmers - Absentee Landlords 1756–1838.
Sir Beversham Filmer, dying without children in 1805, bequeathed Langleybury to his nephew, Sir John Filmer, 7th Baronet (who had already been vicar of Abbots Langley for 20 years - see The Vicarage). It then descended in the family till 1838. The Filmers didn't occupy the House, but leased it out.

In 1762 the road at the lower edge of the park became the Sparrows Herne turnpike, and in the 1790s the Grand Junction Canal was dug along the valley bottom alongside the road.



Claudius Amyand MP 1718-1774.
Occupant, Langleybury 17??-1774.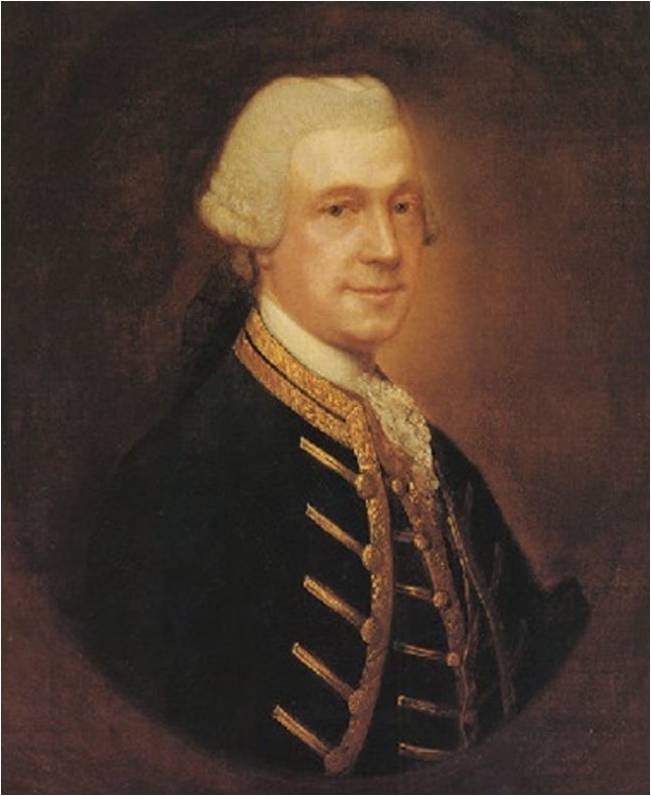 Politician.

Occupant, Langleybury 17??-1774.

Source: Portrait by Thomas Gainsborough © National Portrait Gallery, London???????


Lincoln's Inn, MP Tregony, MP Sandwich.

Son of Hugenot refugee Claudius Amyand, Sergeant-Surgeon to George 11 who performed the first successful appendectomy.
More about Claudius Amyand here.
Edmund Fearnley Whittingstall.
Owner & occupant of Langleybury 1838–1856.

In 1838 Sir Edmund Filmer (8th Bt) sold the estate to Edmund Fearnley Whittingstall (né Fearnley), a Watford brewer. He started a bank in partnership with William Smith which went into bankruptcy soon after Whittingstall's death, forcing the sale of the estate in 1856.



William Jones Loyd(1821-1885).
Occupant, Langleybury 1821-1885.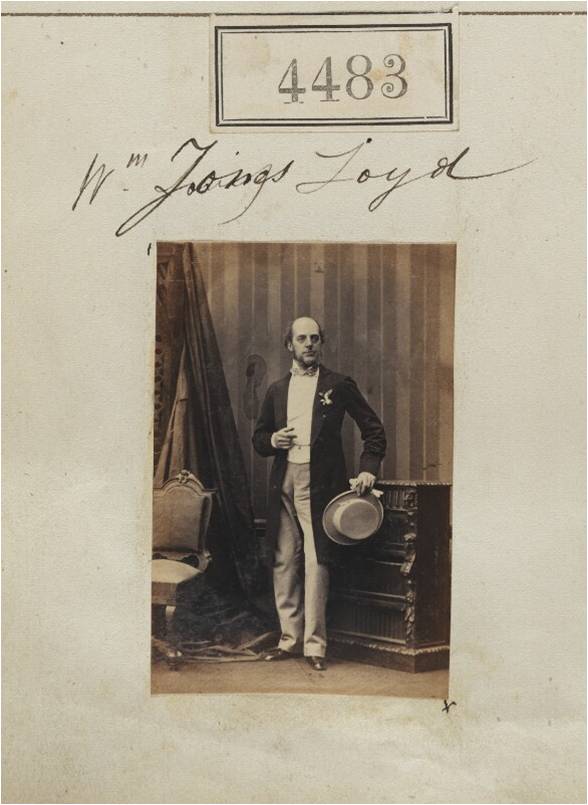 Merchant Banker , Built St Paul's Church and the primary school at Hunton Bridge.

Loyd, Entwisle & Co bank (1771-1863), established in Manchester, was a past constituent of NatWest.
Photograph of William Jones Loyd by Camille Silvy albumen print, 18 June 1861 © National Portrait Gallery, London.
Major Edward Henry Loyd.
Occupant & owner, Langleybury 1861-1938.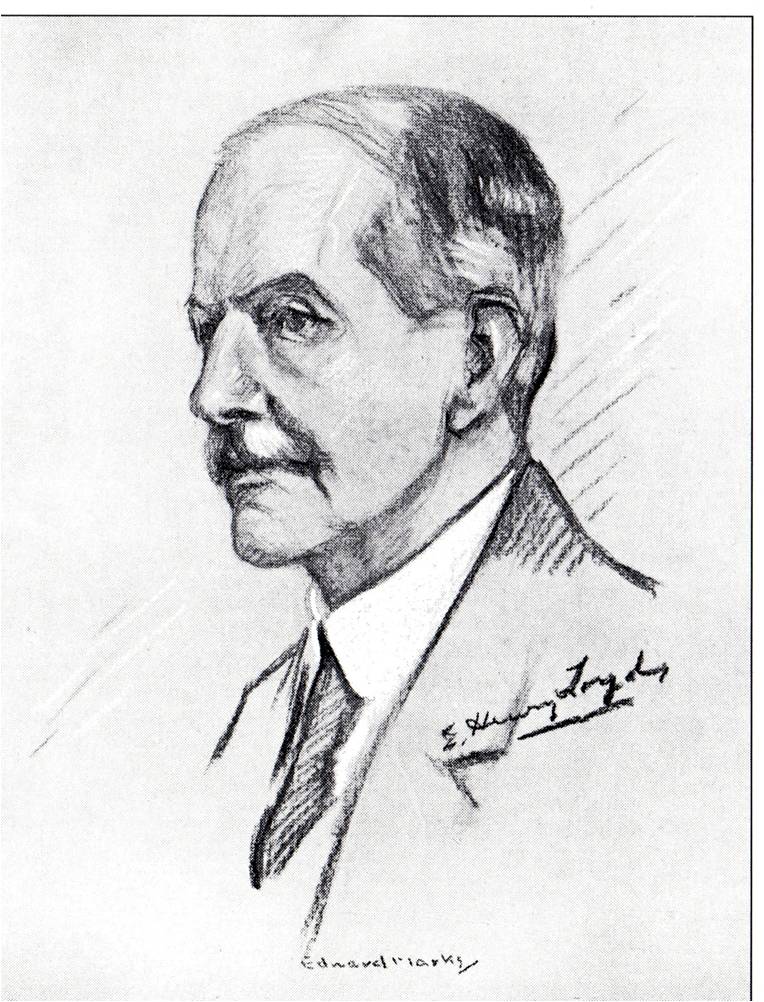 Merchant Banker, High Sheriff of Hertfordshire in 1894.



Honourable Clementina Georgina Loyd nee Brownlow (1860-1929).
Occupant, Langleybury 1888-1929.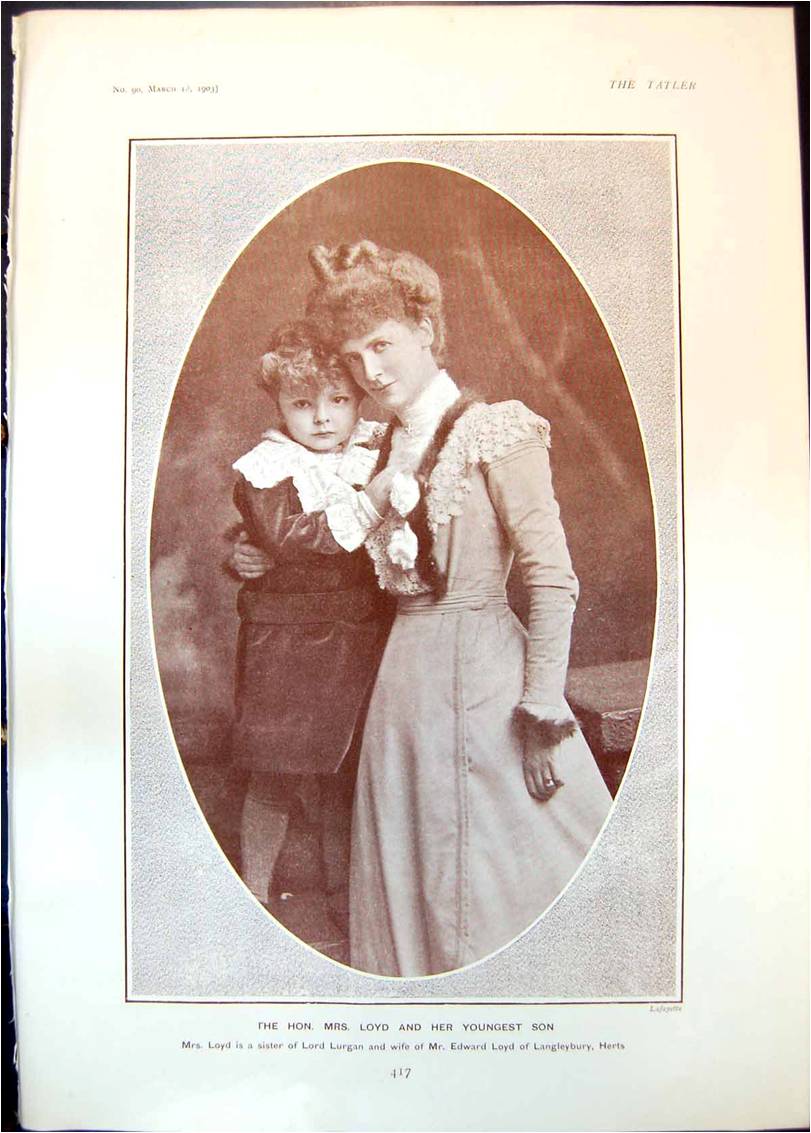 First wife of Edward Loyd , with their youngest son Henry Charles.

Daughter of Charles Brownlow, 2nd Baron Lurgan.

From 'The Tatler' March 17 1903.



Copyright. These web pages © Lesley Brooks. Where images and text are drawn from other sources, copyright is acknowledged whenever known, and links to those sources provided where required or appropriate.
Any use of this material, for any purpose, must be credited, with due reference, including the URL, and a link provided back to these pages when online.