Welcome to the webpages of Tim Brooks
Eclectic Fiddler, Singer, and Song Writer

For booking enquiries regarding any of these performers - or communication for any other reason for that matter -
please use the e-mail address shown above - or alternatively call me on 01923 264536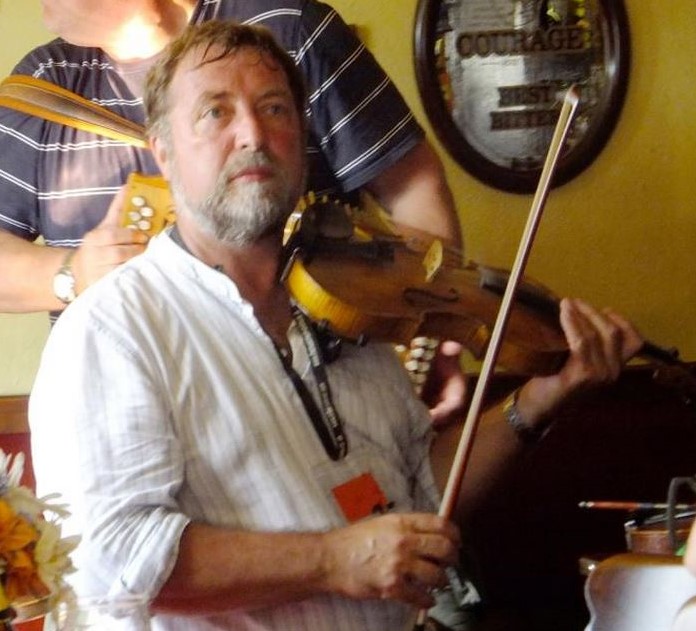 Tim Brooks
Performs solo at folk clubs, social events and festivals. His solo repertoire is a mix of traditional/traditional-style songs and fiddle tunes, mostly from the British Isles, but with other influences mixed in. Tim's songwriting credits include "The Devil in York" and "So Far From Home", both of which have been performed and recorded by several other artists, not least by Jim Mageean and the late, great, Johnny Collins. Tim accompanies himself on fiddle, guitar and occasional other instruments. His playing style is firmly rooted in dance, influenced not only from his early days of playing in Puddleduck, the Rose and Shamrock Ceilidh Band, Happenstance, Gizmo, Herga Morrismen and the Haddenham Hoofers, but also more recently for Tappalachian, step dancer Kerry Fletcher, and his latest ceilidh band 'Threadneedle'. Tim also teaches fiddle, and has developed a workshop targeted at beginners and improvers in folk fiddle entitled "The Zen of fiddle playing (why didn't anyone tell me that before)", which was well received at the Orwell Bluegrass festival and at the Chippenham and Cleckheaton Folk Festivals.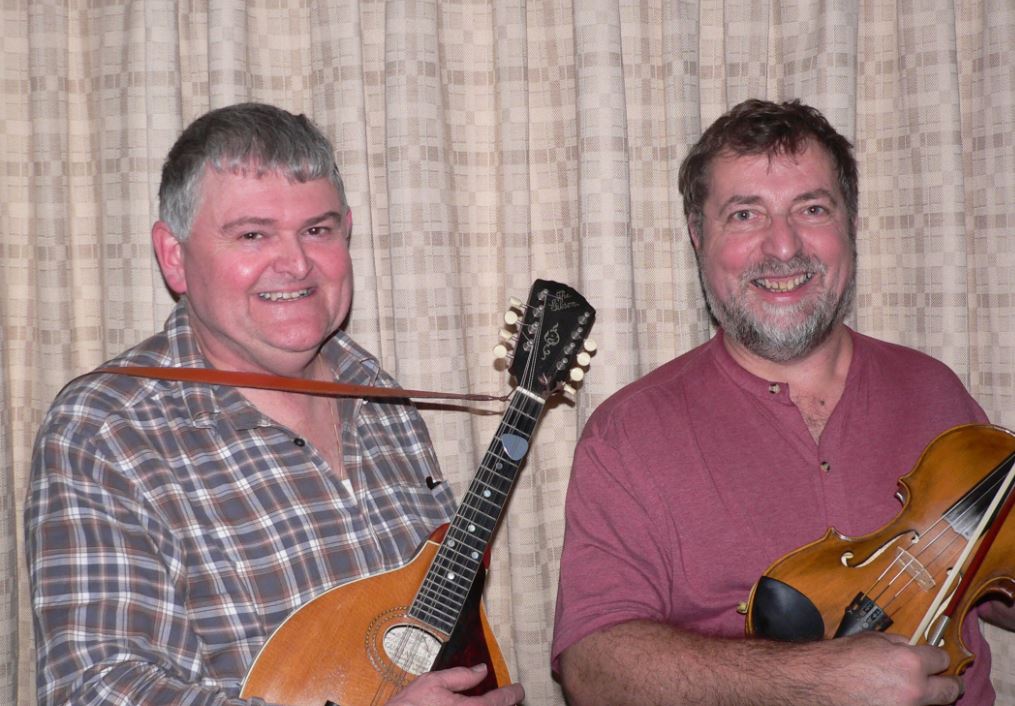 Lawrance and Brooks
Chris Lawrance sings and plays banjo, guitar, mandolin, and bass and together with Tim has put together a set which explores the differences and similarities in traditional music and song from both sides of the Atlantic. Expect lively fiddle tunes, up-tempo chorus songs, and one or two more thoughtful pieces too! In addition to performing with Tim, Chris is a music teacher, and also performs solo. His past associations include working with with the Goose and Gridiron band and Run of the Mill.
Some video demos
Chris and Tim play the American fiddle tune Granny Does your Dog Bite
Chris leads on the Old Time classic Sourwood Mountain
Learnt from Rosenbaum's 'Art of the Mountain Banjo' Sweet Nora Lee

For solo engagements by Chris or enquiries regarding his Guitar, Banjo, Mandolin or Bass lessons, you can contact Chris directly through the contact details on Chris Lawrance's website.




Threadneedle
The sharpest barn dance and ceilidh band in England!
We can't escape the fact that a lot of the music we play is meant for dancing, so we scratch that itch by playing for Barn Dances and Ceilidhs whenever we get the chance, with the talented Alan Spindler on Guitar, Chris Lawrance on Banjo and Mandolin, Lesley Brooks on Recorders and Rick Eyres on String Bass. Together we have a great repertoire of British and American dance tunes, and have worked with a number of callers, including Martin Lindridge, Alan Simpson, Wendy Harrup, Anna Park and Aidan Hansell.
For more information go to The Threadneedle page
----- NEWS -----

10 August 2021
Another song from the worlds least prolific songwriter -
"A Prayer for Leadership".
....and so deliver Albion!
24 August 2018
My newest song! -
"One Penny A Tune".
Scraping a living!
30 March 2017
Another new song! -
"The Head Gardener".
I thought that retirement means there is no longer somebody watching over your work!
29 December 2016
My latest song - "Five new 'eads and six new 'andles"
published here.
I was sweeping the yard when the broom broke - at least I got a new song out of it!
18 November 2016
My latest song - "The Migrant"
published here.
following my participation in the finals of the Watford Folk Club's 2016 songwriting competition on the subject of "Crime and Punishment".
27 October 2016
I have just learned that the new song which I submitted to the Watford Folk Club's songwriting competition has made it though to the finals on Friday 18th November. Details of the competition final
here.
September 2016
I entered the first heat of the
John Birmingham Cup
at the Derby Fok Festival, and my song "Down In the Dark" was the winner! - so I will be competing in the finals at the Whitby Folk Festival next August!
26 October 2015
A new song
"The Melancholy Shipwreck of the Gossamer" published here.
29 July 2015
A new CD which includes a recording of my song
"Nothing that's left but the squeal"
has been released by Mike Ruff.
3rd March 2015
A new song
"Down in the Dark"
published here after winning second prize in the Maidenhead Folk Club's 2015 Folk Song Writing Competition 'A song for tomorrow's tradition'.
26 November 2014
Major update of this home page. An overhaul of the rest of the site to align with this will follow!
23 November 2014
Page about The Knoll and association with Rex Whistler updated to include recent article.
16 November 2013
A New Song
"Nothing that's left but the squeal"
15 November 2011
A new web page giving news and info for
Abbots Langley Winter Acoustic Concerts
2nd January 2010
A major clean up to remove missing links, restore broken links, eliminate incorrect punctuation and improve presentation. Google analytics added to some pages out of curiosity.
3rd December 2009
A new page added to showcase Rook Music publications, commencing with
Rock the Cradle Joe
, a collection of 31 old time tunes.
23rd July 2009
A new page added to introduce
The Gallows Hillbillies
to an unsupecting public
12th June 2009
I have added to the fiddletunes page a pdf document of chord charts for some popular old-time tunes